Product Description
Aquarium test kit aquarium water test kit 6 way
HOW TO USE
♥ INSTRUCTIONS
1. Dip the strip into water for 2 seconds and remove it.
2. Hold the strip horizontally for 60 seconds.
3. Compare against the color chart and get accurate results.
♥ SHELF LIFE
New: 2 years from production.
Opened: Better to use up within 90 days
♥ WARNINGS
1. Do not put wet fingers into the bottle.
2. Do not touch or contaminate the test block on the test strips.
3. Screw the bottle cap tightly each time after removing the test strip.
4. Read results in natural daylight.
5. Store in a cool dry place and avoid sunlight.
Application


ponds aquarium fish water test:

Test betta fish tanks, cold water or tropical fish tanks, shrimp tanks, plant aquariums, fish ponds and any other freshwater aquariums.

Platform

Test Kits

Unit

mg/L ; ppm

Parameters

GH, NO2, NO3, CL, KH/TA, pH

Test pads

6

Strips:

5*90mm

Product Size

46*46*110mm

Numbers of tests
100
Packing option

TSTCHECK /Neutral /OEM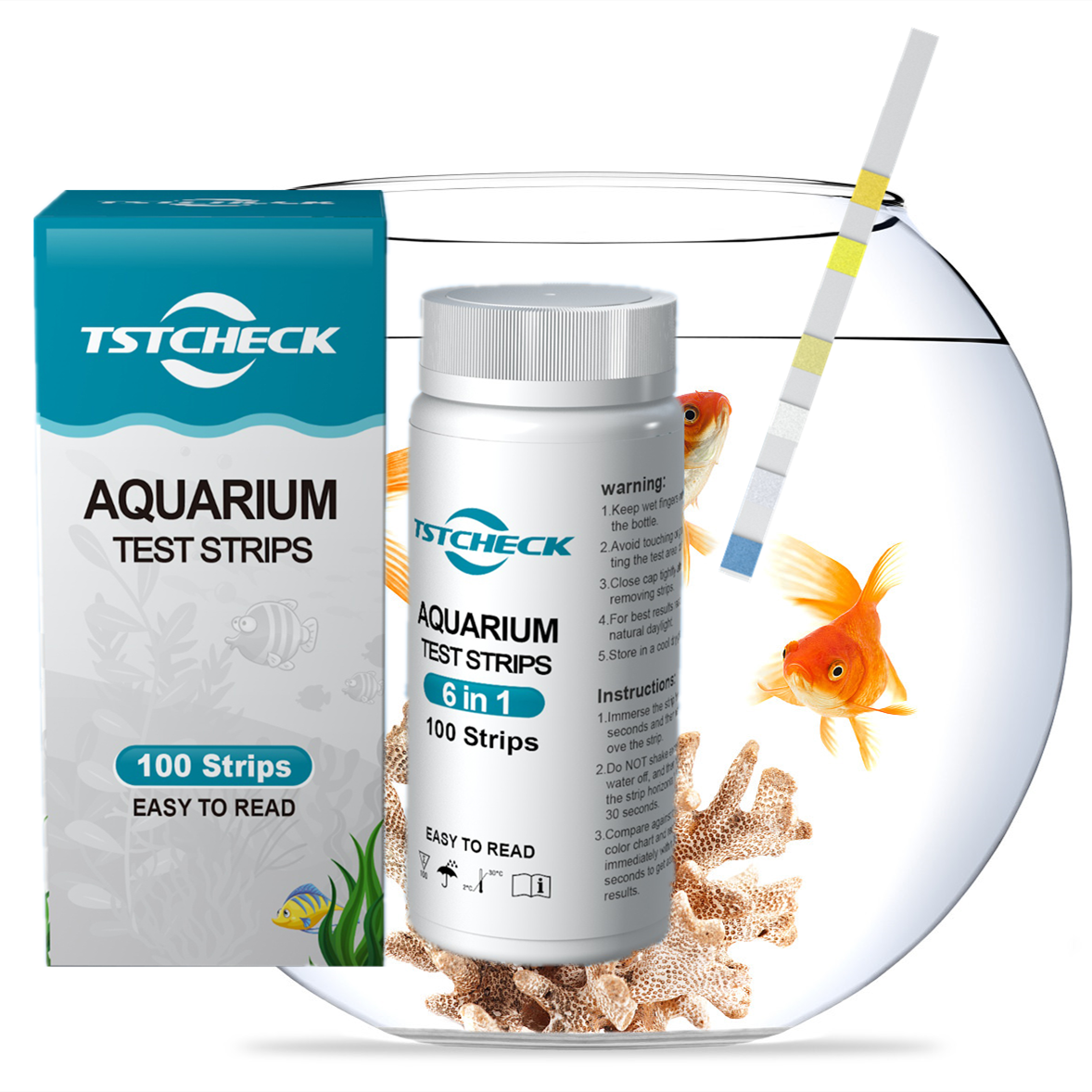 How to analyse water quality
Nitrate

Nitrate can have a deadly effect on Aquatic life-forms. Ideally, you should aim for a level of between 5 to 15 mg/L. However, some fish will be affected by levels as low as 20 mg/L, while others will show no apparent symptoms even at much higher levels (up to 100mg/L or higher). When nitrate levels rise to completely intolerable levels, fish will become lethargic and may have open sores or red blotches on their skin. Head to tail curling may indicate advanced stages of nitrate poisoning. Nitrate also encourages algae, so heavy blooming may also indicate that nitrate levels are high.

Treatment: Change aquarium water regularly to help lower nitrate levels.

Nitrite

Nitrite is a highly toxic pollutant which is produced by bacteria during the breakdown of fish wastes (ammonia) and other organic materials through a process called nitrification. Nitrite poisoning follows closely on the heels of elevated ammonia as a major killer of aquarium fish. Overfeeding and overstocking can lead to high nitrite levels, but incorrect filter maintenance and new tank syndrome are perhaps the most common causes.

Treatment: If nitrite levels spike, change the water until it is at a safe level, you may also add aquarium salt to your tank (use 1 to 3 teaspoons per 4.5 litres, 0-03%) to reduce nitrite toxicity.

Carbonate
Hardness (KH)/Total Alkalinity

Carbonate hardness is often referred to as (KH) which is the measurement of carbonate and bicarbonate ions in your aquarium water and is therefore closely related to Alkalinity, both of which determine the water's buffering capacity. The higher the (KH) the more stable pH levels are, which is essential for the maintenance of many species of fish, which cannot tolerate even small pH changes. There is a direct correlation between the level of (KH) and pH in your aquarium water, whereby a drop in (KH) will result in a drop in pH levels.

Treatment: When attempting to change water hardness, ensure you do this slowly to avoid shocking the fish! There are several ways to decrease water hardness such as softening additive, reverse osmosis machine, driftwood, peat etc..

pH

6.5 - 6.8 - Amazonian fish, like angelfish and neon tetras
6.8 - 7.2 - Aquarium containing a variety of tropical fish
7.2 - 7.5 - Mollies & swordtails
7.5 - Goldfish
7.6 and above - African cichlids & saltwater fish

Chlorine

Chlorine is toxic to fish and other aquatic life-forms. Chlorine is an oxidiser, which removes the necessary slime coat from fish, causing breathing difficulty, stress and other related long term illnesses. When exposed to high levels of chlorine fish may show signs of irritation, such as swimming erratically or attempting to leave the water. Although low levels of chlorine may not be life-threatening, this will still be detrimental. Affected fish may exhibit fast gill beats and gasp at the water surface for more oxygen which may be mistakenly diagnosed as a low-oxygen or gill parasite problem. As the Aquarium water's pH levels decrease, chlorine becomes more toxic. Therefore, all traces of chlorine must be removed from your water source (particularly tap water) before being added to your aquarium!

Treatment: Use de-chlorinator to remove all traces of Chlorine from your water.

General
Hardness (GH)

General Hardness (GH) refers to the quantity of dissolved mineral content in water (calcium and magnesium), soft water has very little or no calcium and magnesium, hard water has a lot. General hardness is a major factor for a variety of biological processes including reproduction. Many fish won't breed successfully if the water is too hard so if your GH is too high, then you will have difficulty breeding these sensitive fish.

Treatment: Test the hardness of your tap water and make changes to the aquarium water as needed. Reducing pH levels may help to reduce water hardness .
Packaging & Shipping
EXW/ FOB SHIPMENT
<500 units
by air express: DHL, UPS, TNT, FedEx, DPD
3-5 working days
500-1500 units

by air express: DHL, UPS, TNT, FedEx, DPD




3-5 working days
by air
8-10 working days
2000 units or more
by air
8-10 working days
by sea
19-25working days
DDP SHIPMENT:
Shipping line with customs clearance and tax to US, UK, CA, Germany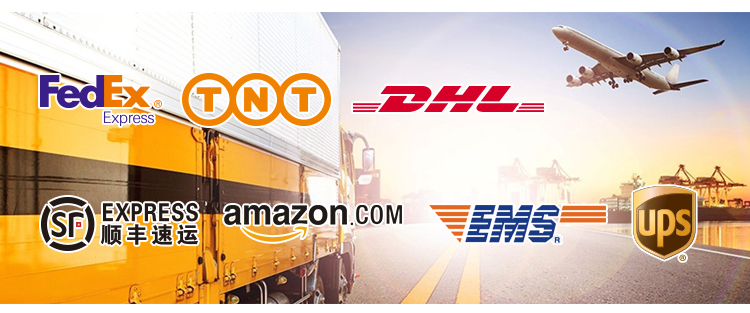 Custom Service

Recommend For You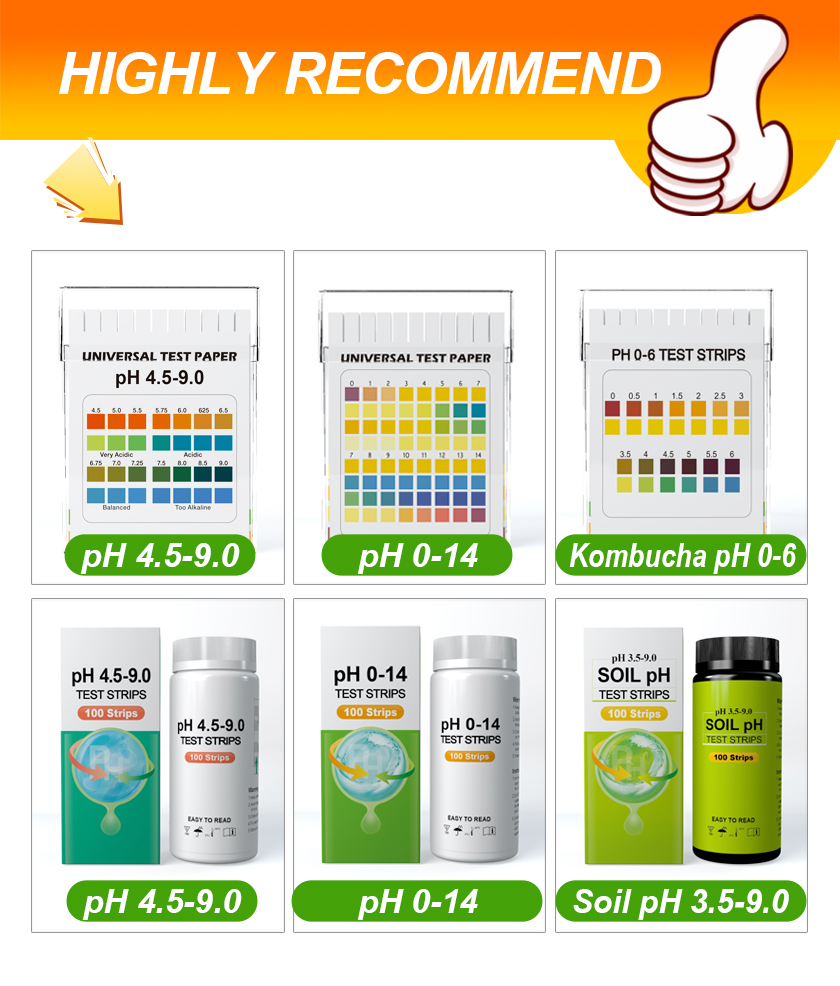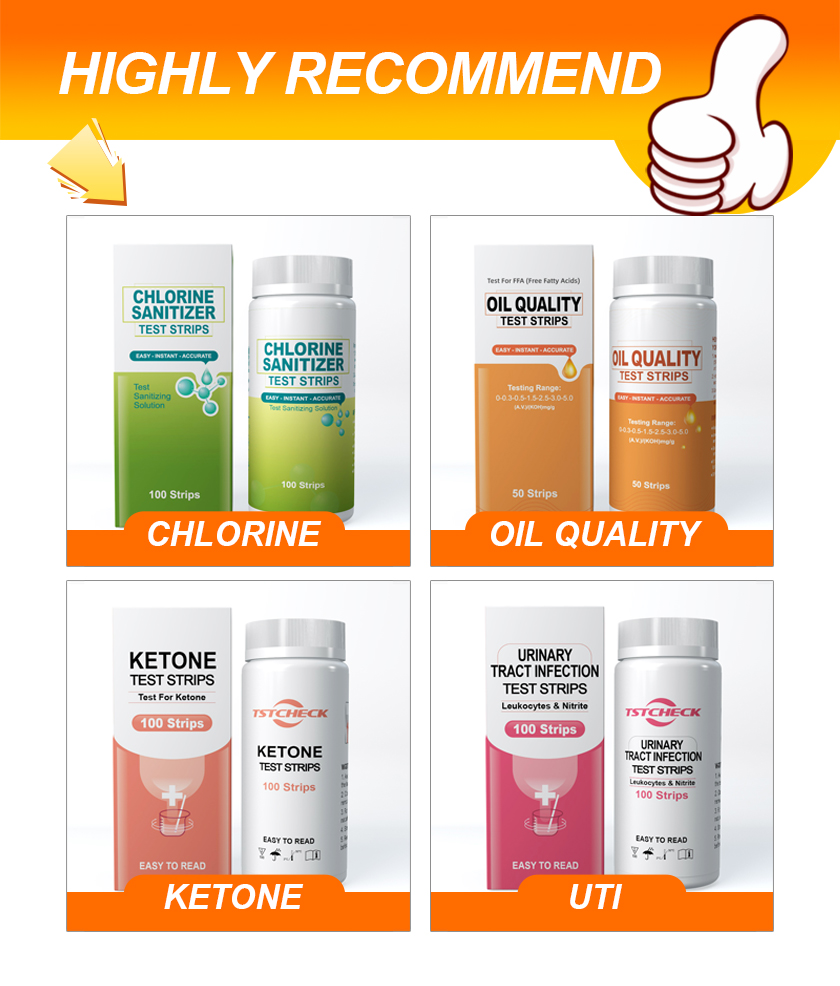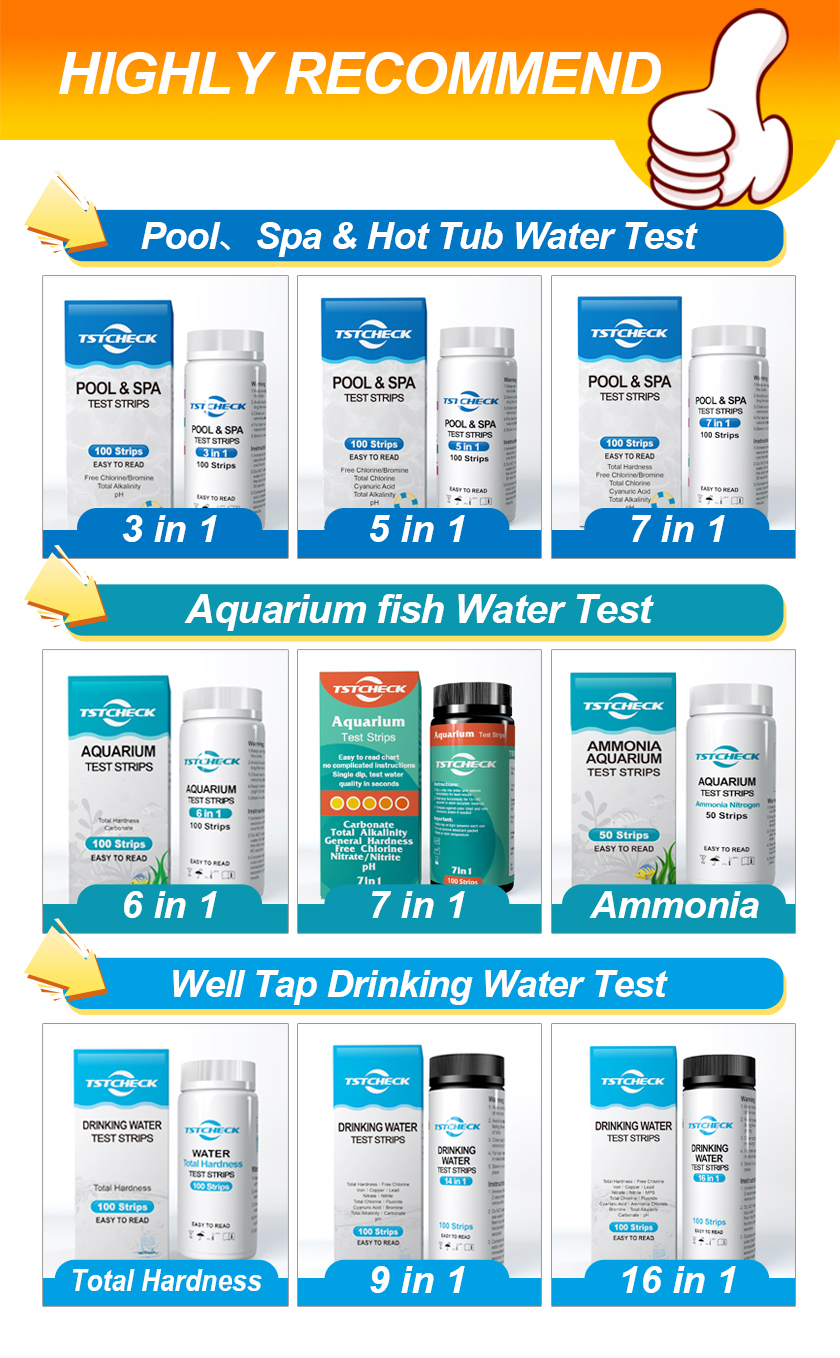 Company Information
Quality First and The Good Faith Is Supreme

Jilin Test Bio-Electron Co., Ltd is a high-tech enterprise with chemical reagent research & development, production and sales integrated as a whole.
Jilin Test Bio-Electron Co., Ltd mainly engages in the project for Water Quality Test Strips, Urine Analysis Test strips, pH Test Strip and Food Test Strips.

Equipping with advanced technology, professional teams, full-automatic equipment, all products are made in a highest quality in China and in line with international standards. Up till now, Jilin Test Bio-Electron Co., Ltd has exported many products to more than 100 countries and met with the approval of many clients all over the world.

If you are interested in any products or if you would like to discuss customized packaging, please feel free to contact us. We'd like to express our desire to develop a business relationship with new clients around the world in the near future.

FAQ